From my Mum today:
Hi All,
Guess what we had in the driveway this morning? A big bull moose! Dad went out the back door to get a picture of it. When he saw Dad approaching , he turned and left and went up the road, cutting through the park just beyond our fence line. Dad got a photo of him on the road.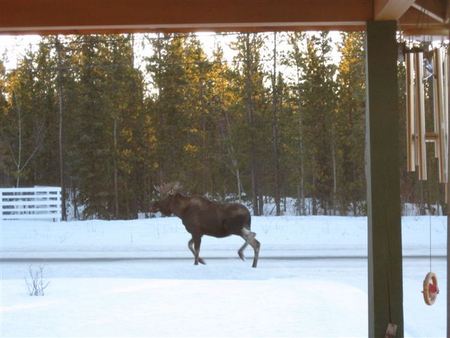 Then when we left for town, there was a car stopped down the road, and a lady was walking around. We stopped to check on her. Apparently she had a flat tire, so was waiting for her husband to come. But she had seen the moose up on the pond in front of her house at the top of the hill of Fireweed Drive.
Two weeks ago, Albert called Ken over to his place behind our place, and he got two photos of moose then in their yard.
We had seen two moose (cow and a yearling) quite a while ago, munching on bushes near the house by the mail boxes .
So when I have some time, I will send a photo. I am trying to get some binding on my postcard wallhanging so want to finish it. I have another class to go to tonight too. .
Jim (my brother-in-law), I tried writing to you yesterday, but the message failed. Hope you get this one. How high is the snow at your place? Are you tired of winter yet? Did you get your new truck?
Ours is melting!
Bye for now
Love Mum