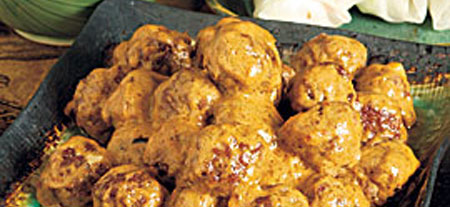 Last night, a friend came to dinner. I thought I'd try to make something simple. I'd seen a recipe in the Fine Cooking magazine last week that I wanted to try out: Meatballs in spicy curry peanut sauce.
This spicy meatball recipe called for ground beef. I couldn't find ground beef in my grocery store. I usually shop at the small(ish) MIGROS in the bottom of the building. The meat department  full of individually-packaged cuts of meat–so I bought some turkey breasts instead. I cut them into one-inch cubes. I think they worked fine.  Here is the recipe (modified by me).
kosher salt and freshly ground black pepper
two or three deboned turkey breasts cut into one-inch cubes
1/2 cup all-purpose flour
2 tbsp of oil, more if needed. The original recipe called for vegetable oil. I used olive oil. I don't know the difference. Olive oil worked for me.
4 cloves of garlic, coarsely chopped (Redd, I used my chopper :-)).
1 tbsp red curry paste, more to taste. (I used more).
1 cup canned coconut milk (refridgerate the can, don't shake it. Use the cream from the top). I just used the whole thing.
2 tbsp chunky peanut butter. I used some peanut butter that I found at the MIGROS. However, I am now on a mission to find a brand of peanut butter here in Switzerland with just peanuts. Just peanuts in my peanut butter please. And maybe some salt. But that's all. When it comes to peanut butter, less is definitely more.
Some freshly-chopped basil for garnish.
Salt and pepper the cubed turkey breast.
Toss lightly in flour. Enough to lightly coat the cubes.
Heat some oil in a wok or fry pan. Just coat the bottom of the pan.
Fry the garlic for about one minute–until it is lightly brown. I used the stopwatch on my iPhone. I seem to use my iPhone for everything. It worked just fine. It got a bit gucky from the kitchen, but I just cleaned it later.  Remove the browned garlic from the pan and set aside.
Fry the coated, cubed turkey breast for about 5 minutes until they are lightly browned and just nicely done- that is, the meat isn't dry.  I fried my cubes in two batches. When the first batch was done, I removed them to drain on a paper towel. Then repeated everything with the second batch.
When you've finished with the turkey cubes, if there is no oil left in the pan, add a wee bit more. Add the curry paste and cook that for a bit in the pan. Stir it to prevent sticking.
Add the garlic that you'd set aside earlier. Keep stirring.
Add the coconut milk. Stir.
Add the peanut butter. Stir some more.
Keep stirring and cooking until you the sauce is uniformly consistent.
Add more curry paste to taste. Stir it in.
Return the cooked, cubed turkey breast to the pan and simmer over low heat until everything is warmed up.
Transfer everything to a serving dish and garnish with the chopped, fresh basil.
WARNING: Don't let things simmer too long. The sauce will curdle. SO PAY ATTENTION. When the sauce is smooth and consistent and uniform, TAKE IT OFF the burner and put it in a serving dish.
We opened a bottle of Ermitage from Caprice du Temps (shameless plug) and ate this dish as an appetizer.