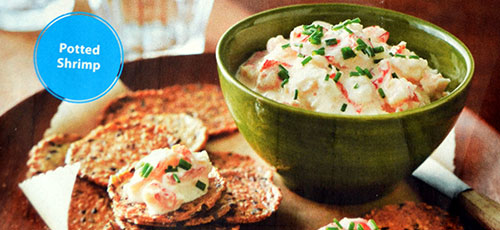 I use recipes as a guide. I usually look at the ingredients, determine which ones I have and go from there. The other day, after the delicious accident substituting sun-dried tomatoes for roasted red peppers, I saw another recipe I thought I could do something with: Potted Shrimp with Crackers from the April/May issue of Clean Eating magazine.
I, of course, substituted what I didn't have for what I did and here is the recipe for the dip I ended up with:
2 tbsp unsalted butter (although, I never understand unsalted butter if the recipe calls for salt in the end. I happen to have unsalted butter in my refrigerator as that is the default here in Switzerland).
1/2 cup finely minced shallots. (I used small, white onions. Very edible raw.)
1 dried bay leaf
1 clove of garlic (medium to large clove)
1 package of crab or fake crab, sliced
1/2 cup low-fat cream cheese
1/4 cup blanc battu ("What is blanc battu?" you may ask. Well. I had the same question, so I googled it. I use it as a substitute for plain or sour cream. I sometimes eat it just plain or mix it with a bit of maple syrup. But, now I digress.) Blanc battu it is.
1 tbsp lemon zest
2 tbsp fresh lemon juice
1 tsp horseradish powder
sea salt and freshly ground black pepper to taste
whole wheat crackers
1/4 chopped fresh chives
In a fry pan, heat the butter on medium heat until it froths. Add onions, garlic, an dried bay leaf. Sauté, stirring frequently until onions are golden brown (about 3 minutes). Add crab, still stirring frequently until it has absorbed the aromas of the butter, onions, garlic, and bay leaf.
Remove from heat and let cool.
In an food processor, blender, or whatever you have, combine cream cheese, blanc battu, lemon zest, lemon juice, and horseradish. Add cooled crab and onion mixture and blend.
Top with chopped chives and serve with crackers or pita bites.
Mmmmmm……