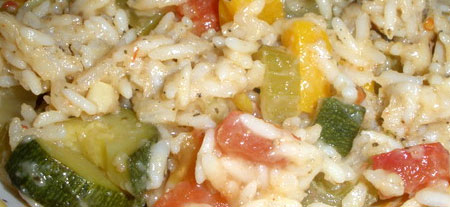 I made this jambalaya last night. I was looking for something low-cal and healthy. I found this recipe in an old cookbook I had (from when I was a vegetarian): Vegetarian Dinner in Minutes by Linda Gassenheimer. It was the first time I, personally, had cooked with cayenne pepper. It was just the right kind of spicy.
2 tablespoons (30 ml) oil
1/2 cup (125 ml) medium yellow onion, sliced
1/3 cup (80 ml)  flour
2 or 3 cloves of garlic, chopped
1 zucchini, sliced into medallions, then halved (the original recipe called for okra. I couldn't find that in my local Migros. I'll have a look in the market the next time I go.)
4 medium celery stalks, sliced
1 medium pepper, diced
1 cup (250 ml) uncooked long grain rice
1/2 teaspoon (2.5 ml) cayenne pepper
1/2 teaspoon (2.5 ml) freshly ground pepper
1/2 teaspoon (2.5 ml) dried thyme
3 cups (750 ml) vegetable broth
1/2 pound (250 g??) of prawns (The original recipe didn't call for prawns (being vegetarian and all. I didn't add the prawns last night, but I will when I make the recipe again).
2 ripe tomatoes
2 tablespoons (30 ml) red wine vinegar
hot pepper sauce
Heat the oil in a large nonstick frying pan on medium heat. Add onions and saute for 30 seconds. Lower heat and stir in flour. Continue to saute 10 minutes, letting flour turn a light tan colour (do not let it turn black).
Add garlic, zucchini, celery, and diced pepper. Saute 5 minutes, until vegetables are starting to be soft. Stir in rice, cayenne pepper, black pepper, and thyme.
Add broth and stir well. Cover and simmer 15 minutes.
Stir in prawns and cook until the prawns turn pink.
Fold in tomatoes and vinegar.
Spoon onto plates, serve, and pass the hot sauce!
The book also gave some tips:
Start onions and flour. While they cook, prepare the other vegetables.
When the flour is ready, complete the jambalaya.
While jambalaya is cooking, make the romaine and orange salad.
~~~~~~~~~~
4 servings
461 calories per serving
27 percent calories from fat